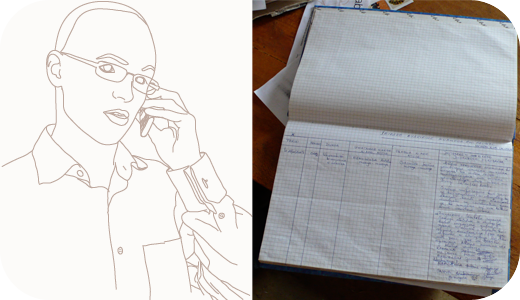 Blogs, wikis, and other Web 2.0 applications have become crucial tools for capturing and sharing information in distributed organisations. However, the power of these tools has not yet reached areas where Internet infrastructure or literacy lag behind.  
The Oral Wiki is a phone-based wiki system that could serve as a networking tool to strengthen informal justice systems. It could archive case results and facilitate information sharing between the informal and formal justice systems. Because it is completely based on voice, participants who cannot read or write are able to contribute to and benefit from this resource.
The primary objectives of the Oral Wiki are the following:

Build technologies that connect disadvantaged communities to emerging telecommunications infrastructures
Increase access to justice
Strengthen informal justice systems
Facilitate information sharing among informal justice actors
Facilitate information sharing between the informal and formal justice systems
Facilitate more efficient and transparent informal justice systems
Create archives of decisions made in informal justice systems
Generate awareness around oral societies' technological needs
Our proposed technological solution is based on the notion that working at the community level might help bring two people together, which could in turn bring reconciliation to communities where informal justice is key to the social fabric. Informal justice actors have an expertise and understanding of the challenges their fellow citizens face. They have a wealth of knowledge to offer their fellow citizens, their governments, and the world. In post-conflict countries their work assists in moving people away from conflict by offering a forum for reconciliation. For these reasons informal justice actors should be given the means to share and archive their knowledge.
Cindy Jeffers has been researching this project as part of her work as a Research Associate at Distance Lab. In September and October of 2008 and April 2009 she met with informal justice actors called Abunzi, in Rubavu District, East Province and Kirehe District, West Province in Rwanda. Each of the Abunzi she met with expressed a need for a network on which to discuss best practice. It was from these meetings that she set out to create a technology to connect the Abunzi. This research has inspired her to think more globally about informal justice systems and how they could be assisted through technology. The Oral Wiki is her first attempt at addressing a need in the informal justice sector. It is her hope that this technology would prove useful in other informal justice systems.